Better corrugating starts with superior technology. Mitsubishi's 60H Single Facer's patented Kappa Belt pressure system applies even, optimum pressure to the corrugating roll, effectively eliminating pressure marks and board defects common among pressure roll designs. The Kappa Belt, made of durable, flexible fabric, remains debris-free and reduces wear on the corrugating roll. With automated control and diagnostics, automatic adjustments for board and liner thickness changes plus total temperature control, the 60H almost runs itself!
Features
Extended nip belt type with thermal vacuum fingerless single facer
Maximum machine speed: 450 mpm (1500 fpm)
Corrugating roller pressure is automatically controlled according to paper width
Process commander system (interfaced with Sigma 2000 total control system)
High performances with light papers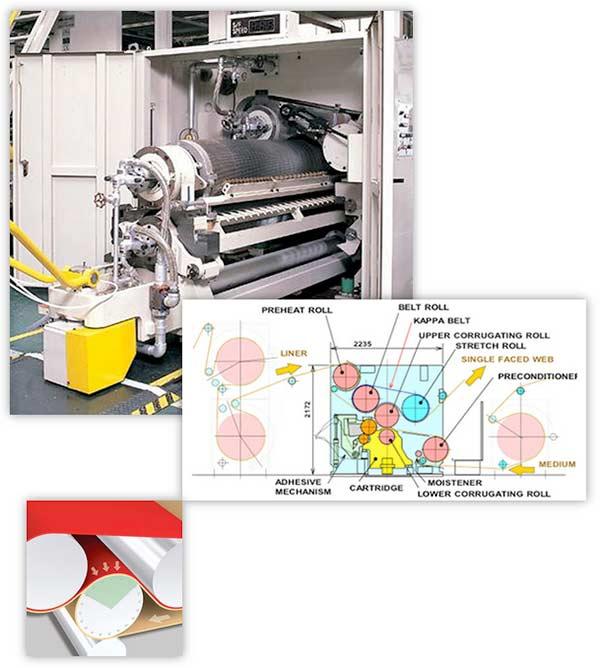 Benefits
90º extended nip area for constant even pressure
Kappa Belt warranty for 65 million linear feet
No pressure roll marks or degradation when using any grade of medium and liner
High speed operation up to 450 mpm (1500 fpm) with dramatic reduction of noise
No need for fine tuning of roll gap and pressure forces
Glue thickness automatically controlled according to paper and speed
Quieter operation
Specifications
Max. machine speed 450 mpm (1500 fpm)
Machine Widths from 1,800 to 2,800 mm (72- 110 in)
Preconditioning roll for medium with adjustable wrap angle
Automatic adhesive roll to corrugating roll gap adjustment
Process commander
Automatic liner and medium temperature control device (opt)
Dimensions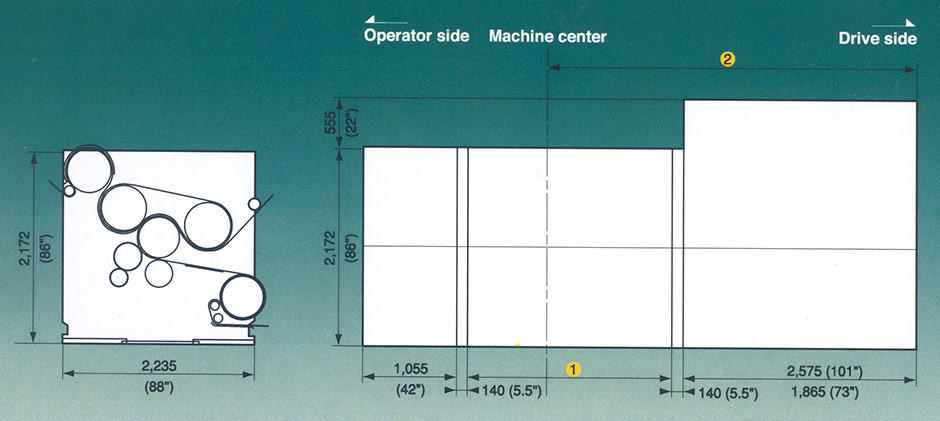 (1)
(2) Standard Specifications
Optional Specifications*
1800M/C (71")
2,300mm (92")
3.800mm (153")
3,170mm (125")
2000M/C (78")
2,530mm (100")
3,980mm (157")
3,270mm (129")
2200M/C (87")
2,730mm (108")
4,080mm (161")
3,370mm (133")
2500M/C (98")
3,000mm (118")
4,215mm (166")
3,505mm (138")
2800M/C (110")
3,300mm (130")
4,365mm (172")
3,665mm (144")
* Let us recommend an ideal layout matching your installation space.
For brochures or more information about equipment, service offerings or parts, please email [email protected].