About the Mitsubishi Minatomirai Industrial Museum
The Mitsubishi Minatomirai Industrial Museum was established by Mitsubishi Heavy Industries, Ltd. in June 1994 to give youngsters the opportunity to expand their dreams as they move into the future by experiencing science and technology. The museum is organized into different zones representing different themes - LAND, SEA, SKY and SPACE - as well as into different exhibits and activity corners, such as Virtual TourStation, the Science Plaza and Kids Ground.
The experience-based exhibits give youngsters the chance to cultivate their latent talents in science and technology by exposing them to current and future advances they can rarely see in daily life.
Location

Mitsubishijuko Yokohama Building,
3-1, Minatomirai 3-chome, Nishi-ku,
Yokohama-shi, 220-8401
About Techno-kun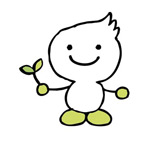 Introducing "Techno-kun", the character of the Mitsubishi Minatomirai Industrial Museum. The light, fluffy and adorable Techno-kun was created out of the image of science and technology of the future, which will operate in harmony with nature. The budding leaves held in Techno-kun's hand embody the hope that the "budding ideas" of science and technology that children hold today will spread out towards the future much as sprouts grow forth from seeds. Techno-kun also appears from time to time at exhibitions and events around the museum. We hope that visitors will enjoy meeting Techno-kun.