MHIET Launches MGS3100R, A New 3,000 kVA Class Generator Set for Commercial and Mission Critical Facilities
・ Releases the highest output model in the series to meet needs of various industries including factories, commercial buildings, hospitals and data centers as a means to supply power at time of power crunches, power failures, and disasters or for Business Continuity Plan
・ Features space-saving, easy installation, and performance and quality approvals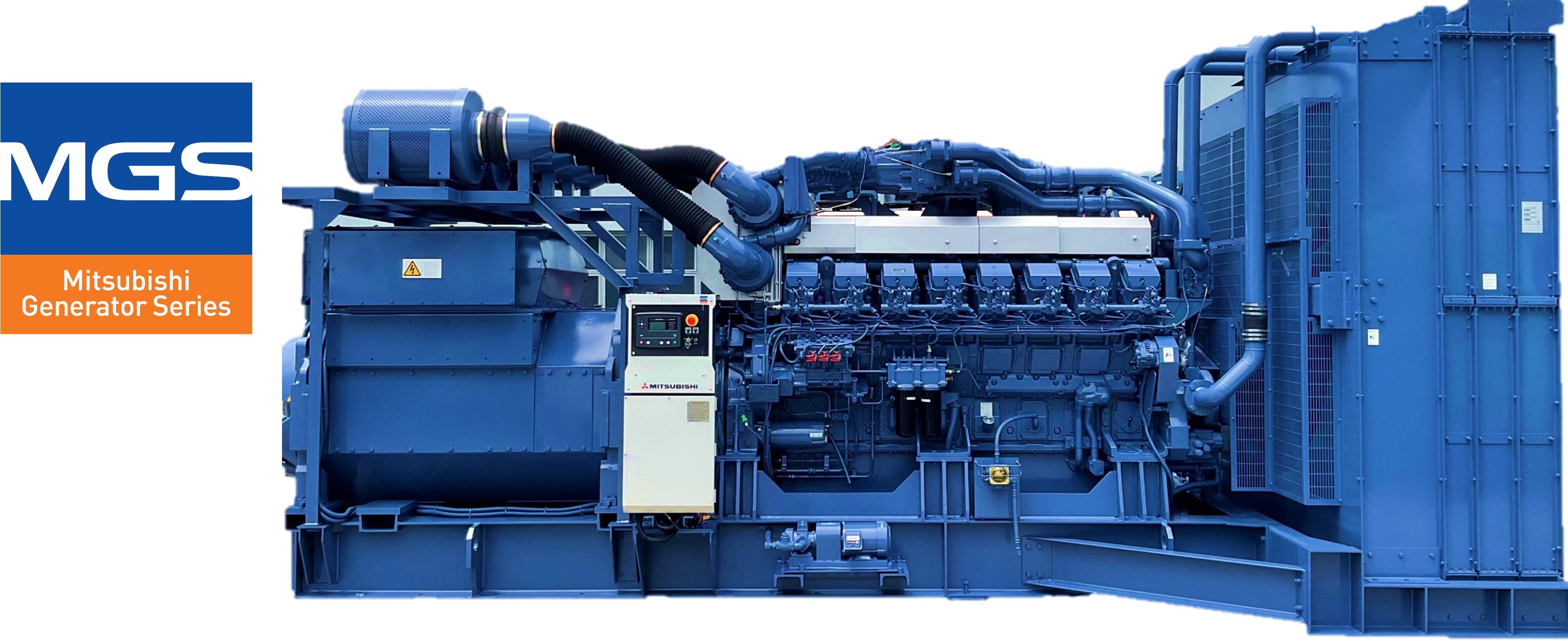 Sagamihara, August 22, 2023 – Mitsubishi Heavy Industries Engine & Turbocharger, Ltd. (MHIET) has launched a new model MGS3100R of MGS-R series. In recent digital society, data communications have dramatically increased which caused data centers to have larger capacity, and factory DX and automation have caused manufacturing to require larger equipment. MGS3100R is developed to meet these higher power demands for emergency generator sets that supply power at time of power failures. All MGS are assembled at MHIET's factories in Singapore and Vietnam and delivered to customers around the world, particularly in Asia-Pacific region.
MGS3100R features a newly developed S16R2-PTAWT-CR engine which employs electronically controlled common rail fuel injection system. A two-stage air cooler is employed to optimize the cooling performance and smaller radiator is selected to reduce space for installation, which led to achieve top-class space saving among similar competing products. The output is 3,025 kVA for standby/critical power and 2,750 kVA for prime/data center continuous power at 50Hz.
In order to meet demands from customers in wide variety of business, MGS3100R complies with Class G3 load acceptance performance which is the highest class in ISO8528-5 as well as National Fire Protection Association's NFPA110 that specifies performance requirements for emergency power supply systems including 10-second starting and ensures performance and quality.
MGS-R and other MGS are assembled and sold by Mitsubishi Heavy Industries Engine System Asia Pte. Ltd. (MHIES-A) and MHI Engine System Vietnam Co., Ltd. (MHIES-V) that also sell engines to customers in Asia-Pacific region. MGS have sold more than 12,000 units to date and received acclaims for the reliability greatly owing to the product design by MHIET who also designs engines whereas many generator set makers market their products using engines purchased from suppliers.
With the addition of the new MGS3100R in the Series and in preparation for continuing demand for distributed power systems, MHIET will continue to offer generator sets in the broad product line for a wide range of industries as a means to strengthen disaster resilience and Business Continuity Plan.
Key features
Top-class space saving by means of smaller radiator
A newly developed high-power engine that applies electronically controlled common rail fuel injection system
Certified to various standards required by extensive industries including data centers
Specifications
Model
MGS3100R
Voltage
380 - 415V
Output (50Hz)
Standby
Critical Power
Prime
Data Center Continuous Power
3,025kVA
2,750kVA
Engine model
S16R2-PTAWT-CR
L×W×H
6,785×2,820×3,170mm
Dry weight
23,100kg
Reference
"Development of Electronic Control emergency Generator Engine for Data Center"
Mitsubishi Heavy Industries Technical Review, Vol.60 No.2 (2023)
https://www.mhi.co.jp/technology/review/en/abstracte-60-2-110.html
"MITSUBISHI GENERATOR SERIES - NEW MGS3100R"
YouTube https://youtu.be/6YQyVdzraxw
---