Indian Diesel Engine Sales and Manufacturing Company MVDE Reaches Cumulative Production Total of 100,000 Units
-- Achieved by Establishing Brand Reliability and Expanded Product Lineup --
August,2 2018 No.004
Tokyo, August 2, 2018 - Mitsubishi Heavy Industries Engine & Turbocharger, Ltd. (MHIET), a Group company of Mitsubishi Heavy Industries, Ltd. (MHI), announces that its manufacturing and sales company for diesel engines in India, Mitsubishi Heavy Industries-VST Diesel Engines Pvt. Ltd. (MVDE), has achieved a cumulative production total of 100,000 units. This achievement was made possible by the brand reliability that MVDE has established over the 11 years since the company's founding, along with its broad product lineup and high quality on a par with engines made in Japan and offered at a locally-made price, which has earned praise from customers in North America, Europe, and India. MVDE will build on this success, and utilizing its global network, work to further increase production and expand sales.
MVDE was established in July 2007 as a joint venture with V.S.T. Tillers Tractors Ltd. (VTTL), a local agricultural machinery manufacturer. The company's head office and manufacturing plant are located in the heritage city of Mysore in southern India. MHIET holds a 96.8% stake in the company. To celebrate the production of its 100,000th unit, MVDE held a grand puja ceremony at the shipping area, with all employees in attendance.
Initially, MHI held a 90% stake in MVDE and VTTL 10%, and with technical assistance from MHI, the company produced small diesel engines with less than 2L displacement. In 2012, MHI increased its investment to the current holding ratio, establishing a strong financial structure capable of supporting large business negotiations, and the company began manufacturing and selling bigger diesel engines for use in construction machinery and other equipment. MVDE was transferred from MHI in July 2016 with the start of operations at MHIET. The enhanced cost competitiveness from the expanded rate of local production has supported strong demand for engines used in agricultural and construction equipment, leading the 100,000 unit achievement.
The joint venture partner VTTL was established in 1967, with its headquarters and factory in Bengaluru. Current, the company annually produces around 30,000 tillers, and 11,000 tractors.
Going forward, MHIET and its parent company Mitsubishi Heavy Industries Forklift, Engine & Turbocharger Holdings, Ltd. (M-FET) will further strengthen MVDE's business structure of sales, procurement, manufacturing and after-sales service, and develop the company to be a center for the engine and energy business alongside those in Japan and Europe.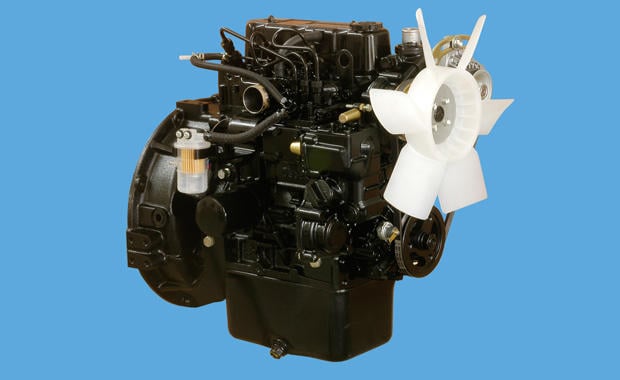 Diesel Engine MVL3E made by MVDE
---