MHIET Wins Two Awards from the Japan Gas Association
-- "2018 Technology Award" for 1,000kW and 450kW High-efficiency Cogeneration Systems --
June,19 2018 No.003
Tokyo, June 19, 2018 - Mitsubishi Heavy Industries Engine & Turbocharger, Ltd. (MHIET), a Group company of Mitsubishi Heavy Industries, Ltd. (MHI), has received two Technology Awards of the "2018 Technology Grand Prize and Award" from the Japan Gas Association (JGA). The awards were given, respectively, for development of the GS16R2, a 1,000kW high-efficiency gas engine cogeneration system, and the SGP M450, a 450kW high-efficiency gas cogeneration system. Both awards hailed the newly developed systems for their efficient energy usage and outstanding economic merits. An awards ceremony was held in Tokyo on June 14. For MHIET, this was the first receipt of JGA awards, and the third win including the period when products of these kinds were still produced by MHI.
The GS16R2, which was developed in collaboration with Tokyo Gas Co., Ltd., was launched into the market in 2013. Targeted at a broad cogeneration market—from large-scale business facilities to small/medium-scale industrial applications—the GS16R2 features optimized combustion and an advanced control system that together enable the achievement of generating efficiency as high as 42.3%. Meanwhile, by keeping engine speed to a low 1,000 revolutions per minute (rpm), the parts replacement cycle has been reduced, resulting in a near 30% reduction in maintenance costs compared to earlier systems. In addition, heat recovery efficiency has been improved, giving the GS16R2 an overall efficiency rating of 78.5%. As a result, running costs have been significantly reduced.
The SGP M450, jointly developed with Toho Gas Co., Ltd., has been on the market since 2015. Through optimized combustion and the adoption of a water-cooled turbocharger and high-efficiency generator, the SGP M450 realizes superlative output and 42.0% generating efficiency—among the world's highest ratings in a 400kW-class system. Here also, enhanced heat recovery efficiency enables the achievement of overall efficiency of 81.5%. In addition, a more compact configuration results in a substantial reduction in installation space. The SGP M450 is increasingly being adopted in hospitals, commercial facilities, office buildings, factories, etc., in tandem with initiatives to meet BCP (Business Continuity Planning) needs.
JGA awards are presented annually in recognition of epoch-making technologies of outstanding originality and advancements that have made remarkable contributions to the development of gas-related operations. In 2018, two Grand Prizes and nine Technology Awards were awarded.
Inspired by receipt of two 2018 JGA awards, MHIET will continue devoting its resources to the development of high-performance, high-efficiency engines as its way of contributing to economic development and more comfortable lifestyles the world over.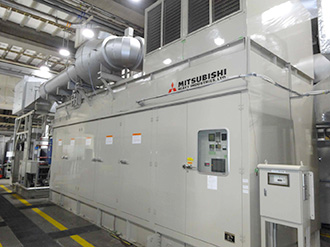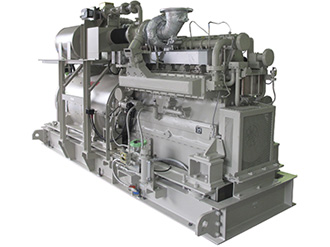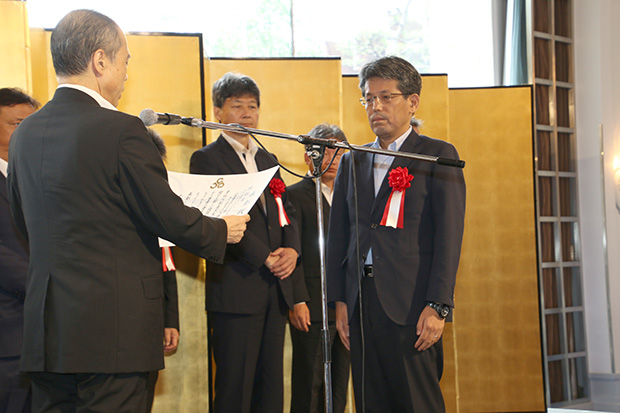 ---