Toho Gas and MHIET Jointly Develop 450kW Remote Radiator Type Gas Cogeneration System- Provides Continuous Rated Operation Even During Power Outages and Water Supply Failures -
May 31, 2017
Toho Gas Co., Ltd.
Mitsubishi Heavy Industries Engine& Turbocharger, Ltd.
Tokyo, May 31, 2017 - Toho Gas Co., Ltd. (Toho Gas) and Mitsubishi Heavy Industries Engine & Turbocharger, Ltd. (MHIET) have jointly developed a new 450kW gas engine cogeneration system that utilizes air-cooled remote radiator. Sales promotion of this new product commenced on June 1st, 2017.
Whereas the conventional cooling systems use a water-cooled cooling tower which requires periodic water refilling, use of the air-cooled remote radiator eliminates this need, thereby enabling continuous cogeneration system operation even during natural disasters or other emergencies when electricity and/or water supplies are not available.
Further, unlike the conventional cogeneration system with air-cooled cooling system that require limiting of output during operation, the newly developed system can sustain rated operation by optimally controlling the engine operation.
Toho Gas and MHIET intend to promote this outstandingly energy-efficient new system for use in hospitals, commercial facilities, offices and factories. Going forward, the two companies will actively promote further with highlighting the benefits in terms of Business Continuity Planning (BCP), energy savings, and environmental protection.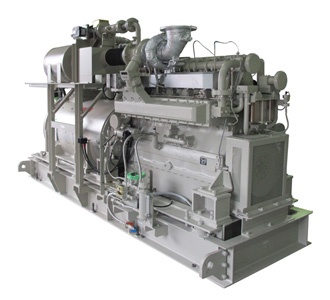 Main Features
(1)Continuous rated operation with air-cooled remote radiator
Some conventional cogeneration systems with air-cooled cooling system need to lower engine output to avoid engine malfunctions or drop in performance when the temperature of the cooling water increases. With the new product, the engine operation is optimized to prevent such issues from happening, contributing to achieve continuous rated operation.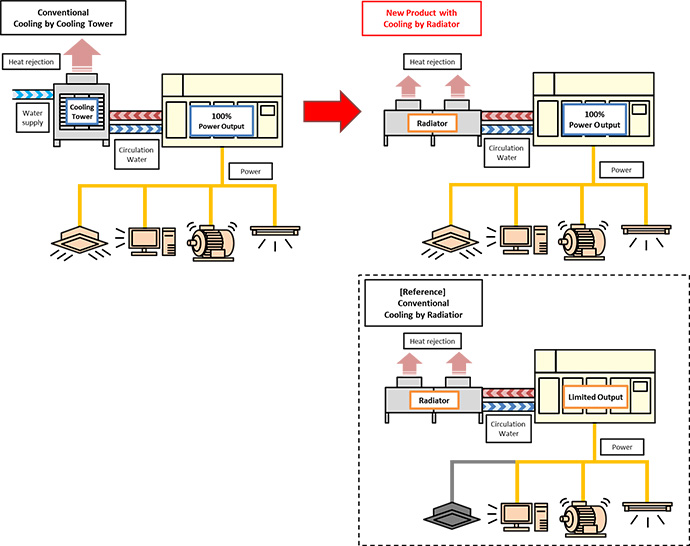 (2)Secure reliable power supply
Use of air-cooled radiators eliminates the need of water replenishment thereby enabling continuous operation of the cogeneration system. Employing both Black Start function* and radiator cooling, power supply to important buildings including data centers, factories and offices for fire extinguishers and other security-related equipment can be more reliable without need to rely on grid transmission or water supply.
Notes:Function to start engine to generate electric power without relying on external power network.
Specifications
Item
Unit
Convert into
steam/hot water
Convert into
hot water only
Package model
-
SGP M450-S
SGP M450-W
Engine model
-
GS6R2-PTK
GS6R2-PTK
Generating output
kW
450
450
Rated engine speed
rpm
1,200
1,200
NOx(@engine out)
ppm(at O2=0%)
≦200
≦200
Generating efficiency1,2
%
42.0
42.0
Steam recovery
efficiency1,2
%
17.5
-
Hot water recovery
efficiency1,2
%
21.0
39.5
Overall efficiency1,2
%
80.5
81.5
Notes:
1 Tolerance +5% based on LHV 40.60MJ/Nm3
2 Efficiency calculations according to ISO 3046
---