ABOUT US

Our Company
Mitsubishi Nuclear Energy Systems
Mitsubishi Nuclear Energy Systems (MNES) was founded in 2006 as the U.S. nuclear operations office for Mitsubishi Heavy Industries, Inc. (MHI). From its headquarters in Charlotte, NC, MNES is leading the way for safer and more reliable nuclear energy.
Services & Technologies
MNES offers some of the world's most advanced services, technologies, and components to the United States for use in operating nuclear stations.
MNES provides replacement reactor vessel closure heads, reactor coolant pumps, steam generators, and pressurizers, as well as robotic systems.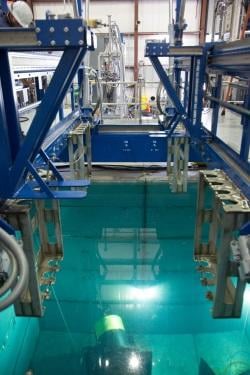 Our Leadership
Kenichi Miyazawa, President & CEO
Appointed to the position of President & CEO in April 2022, Miyazawa-san has over 25 years of global experience in the marketing and sales of nuclear power systems for Mitsubishi Heavy Industries, LTD (MHI).  He joined MHI in 1993 and prior to coming to MNES, Miyazawa-san served as General Manager of the Technical Purchasing Department and Acting General Manager of the Business Operations Department for RECO Company Ltd., a subsidiary of MHI.  Prior to this he was General Manager & Planning Manager of the Advanced Reactor & Fuel Cycle team.  He was previously assigned to MNES from 2009 to 2012.
Gregory L. Martin PMP, Vice President – U.S. Operations
Mr. Martin plays a key role in MNES' US industry efforts on behalf of Mitsubishi Heavy Industries, LTD and also is responsible for oversight and execution of MNES' corporate programs. He joined MNES in 2014 after having spent 13 years at Framatome Inc. in various engineering and project roles supporting the US operating nuclear fleet and technical management of new reactor licensing abroad in France and England. Mr. Martin has a proven track record of leading high-risk and/or first-of-a kind projects, establishing successful project teams, and implementing organizational improvements that have resulted in routine and on-time delivery of commercial nuclear projects. Mr. Martin graduated with distinction from Virginia Military Institute in 2001 with a BS in Mechanical Engineering and is a registered project management professional (PMP).
Management Staff
Scott R. Baumgartner, Vice President – Commercial Operations
Takahiro Nagaoka, Corporate Secretary