Visitor Information – MTEE-F – Marly
On the premises of Mitsubishi Turbocharger and Engine Europe, French Branch Office in Marly, there are a few rules to ensure the health and safety of staff and visitors. As a guest, you are expected to take note of these rules and respect them. Please take a moment to read this information.
Arrival
On arrival, visitors report themselves at the reception desk and identify themselves.
Calamities
In case of a calamity (fire, accident, evacuation signal) it is necessary to follow the instructions of the (company) emergency assistant(s). Mind your own safety and do not leave the premises without checking yourself out first.
Personal Protective Equipment
MTEE-F expects you as a visitor to follow the instructions of your contact person and the information regarding wearing personal protective equipment. Do not touch any machinery and equipment.
Smoking
Smoking is only allowed at the designated areas outside the factories. Inside the buildings, it is forbidden to smoke anywhere.
Confidentiality
Through your relationship with Mitsubishi Turbocharger and Engine Europe, or because of access to our facilities, you can have access to confidential information of MTEE. For the purpose of admittance to our facilities, you are required to keep all possible confidential trade secrets or confidential information that is passed on to you, strictly confidential. You should not remove any document, equipment or other materials from the premises without written permission of MTEE.
It is prohibited to photograph, duplicate or in any other way capture information, technologies and materials which you may have or have accessed during your visit, without permission from MTEE.
Directions
By car
From Bruxelles (Belgium) : 1h15 by A2-E19, Exit 23
From Paris (France) : 2h00 by A1 and A2-E19, Exit 22b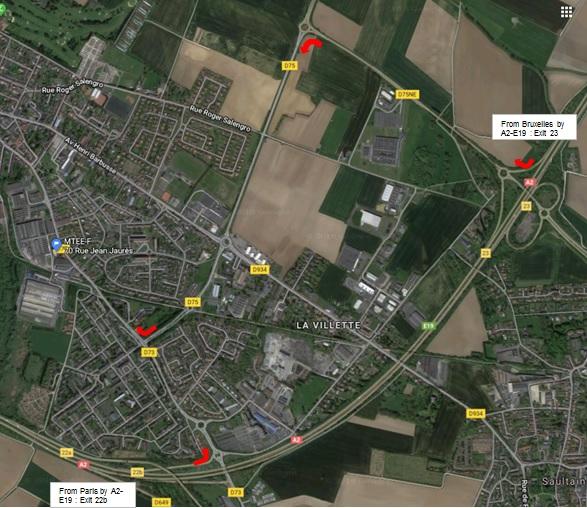 By train
From Paris or CdG airport : 2h00 by TGV to Valenciennes
By plane
From Bruxelles (Belgium) : Zaventem airport (120 km)
From Paris (France) : Charles de Gaulle airport (190 km)