Tokyo, February 24, 2022 –MHI-MME completed the basic design of a self-fleeting (*1) cable drum engine toward its commercialization.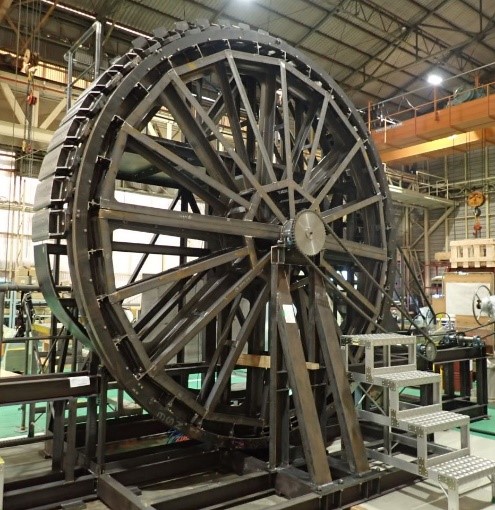 Since 1967, MHI has been delivering knife lining fleet-type cable drum engines (*2) for use on cable layers for the installation of submarine cables. However, in recent years, the diameters of the submarine cables have been reduced, and there is even greater emphasis now being placed on overall safety in relation to cable installation and maintenance operations. Development was launched to meet the increased demand for self-fleeting cable drum engines that are more suitable for reeling in and feeding out reduced diameter cables. The basic design was recently completed following the consideration of motion analyses using 3D models and verification utilizing a simulation test apparatus. This past December, a tour of the simulation test apparatus was also held for our clients who have adopted the use of MHI-MME cable drum engines.
Going forward, we will proceed with the commercialization of self-fleeting cable drum engines toward full-scale sale from 2023.
(Note *1)
A method in which the function of fleeting the cable (ensuring that the cable being reeled onto the drum surface does not overlap) is contained within the drum main unit. The self-fleeting mechanism is set up on the drum surface.
(Note *2)
A method in which an external device (fleeting knife lining) is pressed up against the drum to prevent overlap while reeling the cable onto the drum surface.

---