Merit 
 Fuel efficiency improvement approx. 2.5%.
 Applicable Type 
 MET-MB type (flame size : from 33 to 60 * except 53 size)
 Solution 
 Replacing several parts on the turbine side allows retrofitting to an integrated EGB turbocharger.
 The installation of an exhaust gas bypass line will bypass exhaust gas during high load operation,
 and enable turning suitable for low load operation.
 Feature  
 Retrofitting to integrated EGB parts (butterfly valve / special casing) enables turning suitable
 for low load operation.
 Delivery Schedule  
 Parts :Seven (7) Months.
 Work period : about four (4) days
 *Piping of "control air for valve", valve control sequence, etc. are the engine builder's scope of service/ work.
 Quotation  
 Please kindly requested to contact us for business inquiry.
 Current situation  
 Many vessels are currently under slow speed operation, and main engine is also operating at partial load.
 Therefore, there is a room for improvement by applying integrated EGB additional installation.
 Additional or replacement parts (gas inlet side)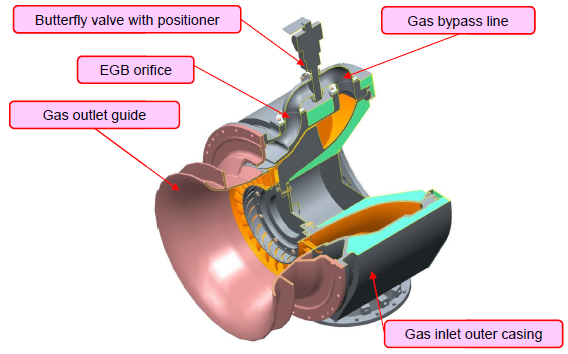 [ Remark ] Regulator / Signal converter / Distributor, Programing of software, or governor controller, etc.
                   are scope of engine builder.
---