MHIEC Builds a New Waste-to-Energy Plant with 194 Tons Per Day-Capacity in Konan City, Aichi Prefecture, Japan -- Contract Also Includes Long-Term Operation and Maintenance Services for 20 Years of a New Facility that Replaces Two Existing Plants in an Ex
◆ MHIEC received an order from the Owarihokubu Waste Disposal Association; the operation will start in April 2028
◆ The MHIEC proposal was very favorably evaluated for its local contributions such as its business plan under the unified responsibility of MHIEC and employment plan for local human resources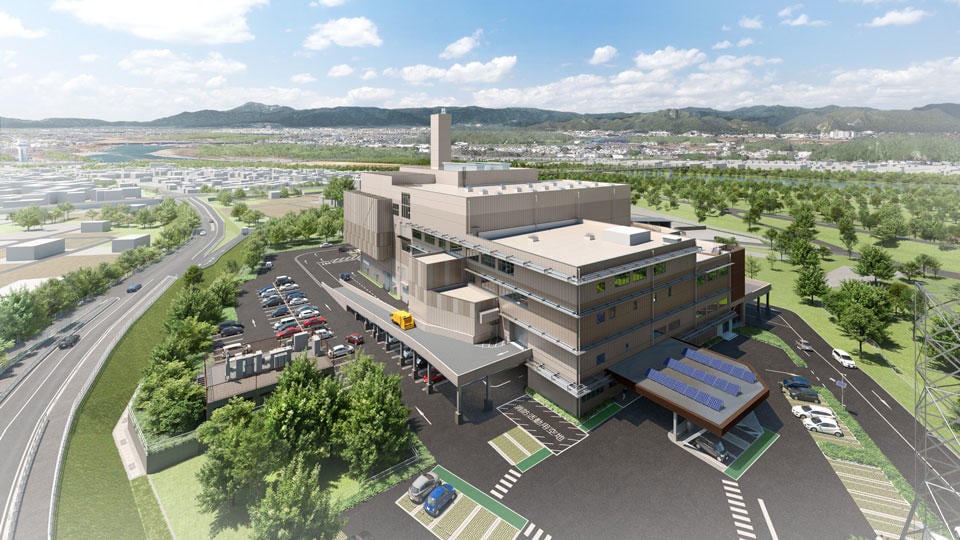 Tokyo, February 14, 2023 - Mitsubishi Heavy Industries Environmental & Chemical Engineering Co., Ltd. (MHIEC), a Group company of Mitsubishi Heavy Industries, Ltd. (MHI), has received an order from the Owarihokubu Waste Disposal Association for building, operation, and maintenance of a new waste-to-energy plant. The association was established to consolidate waste treatment services of four municipalities in the northern Aichi region: Inuyama City, Konan City, Oguchi Town, and Fuso Town in Niwa County. The order calls for construction of an integrated waste-to-energy plant equipped with two stoker-type incinerators*1 collectively capable of processing 194 tons per day (tpd) in Konan City, to replace two superannuated plants in the association's service area. The operation startup is scheduled for April 2028.
Consolidating the services of four municipalities, the new plant will replace two superannuated facilities: Inuyama Waste Disposal Center (capacity: 135 tpd; designed and built by MHI; located in Inuyama City and operated since 1983) and Konan-Niwa Waste Disposal Center (capacity: 150 tpd; located in Oguchi Town in Niwa County and operated since 1982). Under the DB+O*2 contract, MHIEC will also take charge of providing long-term operation and maintenance services of the new plant for a period of 20 years. The contract is valued at 33.15 billion yen (tax excluded).
The new facility will employ state-of-the-art technology for municipal waste processing. Besides two stoker-type incinerators each having a processing capacity of 97 tpd, the plant contributes to lighter environmental footprint by reducing CO2 emissions and providing highly efficient power generation. In addition, under the DBM*3 contract, MHIEC will also take charge of providing long-term maintenance services of a materials recovery facility (capacity: 14 tons/5 hours) that crushes and processes incombustibles. MHIEC aims to create a facility that contributes to the reduction of greenhouse gases through the recovery and effective use of energy, the realization of carbon neutrality and a decarbonized society by 2050, along with the formation of a recycling-oriented society.
Bidding for the new plant construction project adopted a comprehensive evaluation method taking into consideration not only the bid price but also factors such as technological strengths and operating expertise. MHIEC was awarded the contract due to its attractive business plan for managing the progress of the construction process under the unified responsibility of MHIEC and specific proposals regarding the operation at the materials recovery facility, in addition to its contributions to the local economy, such as local procurement of construction materials and employment plans for local human resources. In construction and operation of the new facility, MHIEC will work closely with a group of five local companies in the association's service area.
MHIEC succeeded MHI's environmental protection business in 2008, taking over its accumulated technological development capabilities in environmental protection systems and abundant expertise in the construction, operation, and maintenance of waste management facilities both in Japan and overseas. Based on this robust track record, the company is well positioned to propose comprehensive solutions encompassing all aspects from plant construction to operation and maintenance, and it can also respond to needs for after-sales servicing and long-term operation and maintenance. Going forward, MHIEC will continue to seek order expansion worldwide through proactive offering of proposals for enhancing the efficiency of existing facilities, making incinerators more advanced through AI and IoT supported remote monitoring and automated operation, and lowering life-cycle costs (LCC).
1

A stoker incinerator is the most widely adopted type of furnace used in waste-to-energy plants. Waste is combusted as it moves along a fire grate made of heat-resistant castings.

2

Under a DB+O (design, build plus operate) contract, a public institution designs, constructs, and owns a facility and comprehensively entrusts the maintenance and management of the facility to a private company for several years.

3

Under a DBM (design, build, maintenance) contract, a public institution designs, constructs, owns, and operates a facility and entrusts the maintenance and management of the facility to a private company.
PRESS CONTACT:
General Affairs Department General Affairs Group
---