Filling the World with Light
EPC Project Management Enabling the Launch of New Thermal Power Generation Facilities
Helping to Expand and Improve the World's Power Generation Infrastructure
Life today, without electricity, can hardly be imagined. While the generation of electricity comes from many energy sources - thermal, hydro, wind, nuclear, and solar power - the most significant contributor to the world's supply of electrical power is thermal generation, representing about 68 percent. Mitsubishi Hitachi Power Systems (MHPS (Note)), an MHI Group company, operates a "thermal power generation EPC (Engineering, Procurement, Construction) project management enterprise," responsible for the engineering, procurement, construction, and post-construction processes involved in bringing many of the world's power generation plants online.
Created in February 2014 by combining the thermal power generation businesses of Mitsubishi Heavy Industries, Ltd. and Hitachi, Ltd.
Photo Top:Kozienice Power Plant, Poland
Bringing a Mammoth Project to Successful Completion
An EPC contract containing the delivery of the plant in its entirety rather than each piece of the facility is becoming more common in the power generation industry. When a power supplier lacks sufficient construction expertise, the customer will seek a turnkey system. That way, the operation-ready facility can immediately respond after delivery to the urgent power demand it was designed to meet.
Project management is critical to completing an EPC project on time and on budget. A project manager directs the activities of numerous partner companies to address the customer's wishes, control costs, and maintain the schedule, with the goal of avoiding potential risks. Those who manage EPC projects must be finely tuned to the project to adapt to ever-changing conditions. MHPS, with its project management expertise honed by copious EPC projects, is steadily building a solid operating base. The company realizes further project management efficiencies by employing information and communication technologies to control the project through a central information channel.
Since MHPS has its own manufacturing divisions for major power generating technology, it can easily adopt systems most suited to the intricacies of the particular power plant. Only a few companies in the world can handle these types of tasks, and, in Japan, MHPS has demonstrated incomparable acumen in this arena.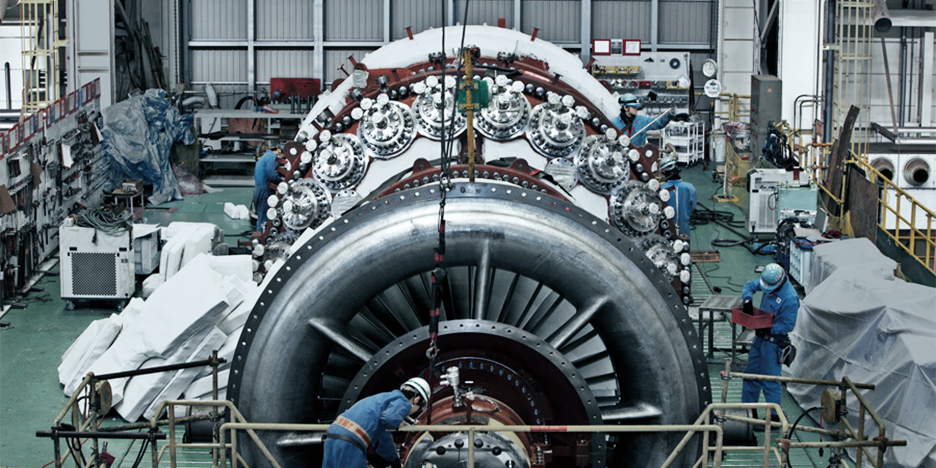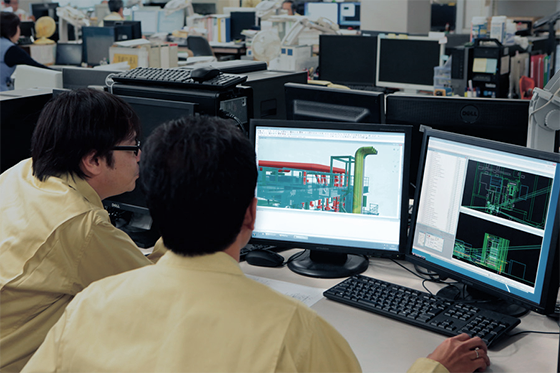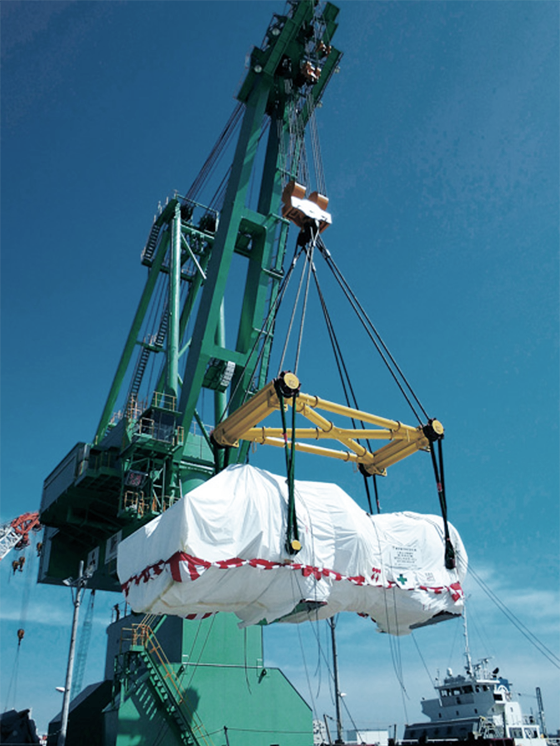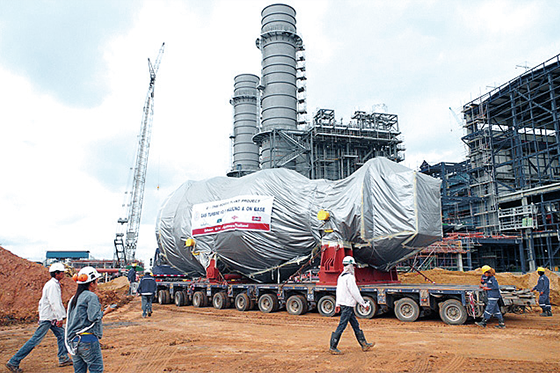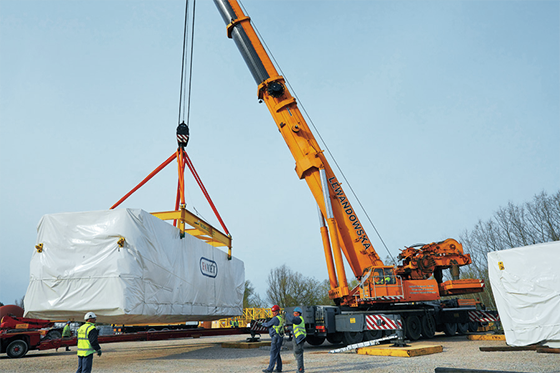 The procurement department transfers equipment safely to the construction site. Products arrive at the designated time thanks to the optimal transportation method that also takes costs into account.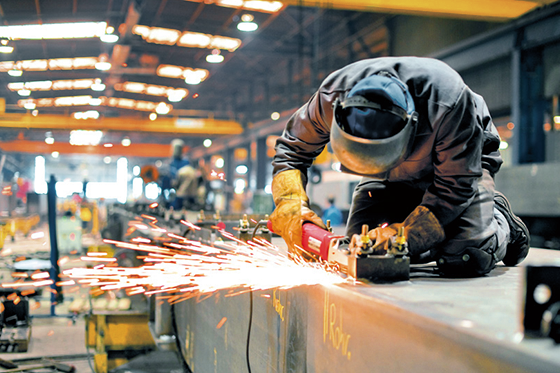 Providing Facilities that Satisfy Power Demands and Differing Supply Conditions around the World
Whether helping power a country or region, MHPS has the resources to build efficient power generation plants for the diverse needs of large regions or countries. A broad portfolio of equipment, environmental protection devices and project management contribute to installations across the globe.
A major coal-producing country in Central Europe, Poland, uses the abundant mineral to fuel its thermal power generation plants, yielding more than 80 percent of its electricity for its 40 million people. Aging plants, increasing demands for power, and stricter environmental regulations to be in force in 2016 now that Poland is a member of the European Union (EU), means upgrades are essential.
The Kozienice Power Plant is one of the country's largest coal-fired operations. The stable performance of its previously supplied flue gas desulfurization (FGD) systems for reducing SO2 (sulfur dioxides) emissions, which have been in operation for some time, was a major factor in MHPS being awarded the Unit 11 power plant expansion project in 2012. MHPS has launched this EPC project (Notes 1) for upgrading the power generation complex with new systems that include a steam turbine, boiler and environmental devices.
In addition to the leading-edge FGD system, other clean coal technology to be equipped with this new ultra-supercritical pressure coal-fired plant (Notes 2) is a selective catalytic reduction (SCR) type de-NOx system that can reduce emissions of NOx (nitrogen oxides) by more than 80 percent.
MHPS is proud to develop and build thermal power generation plants around the globe that deliver more efficient energy and meet varying regional demands and supply conditions, while simultaneously reducing environmental loads. With a comprehensive range of products, technology and advanced management capabilities through EPC, we deliver highly valued engineering, procurement and construction services toward improving the quality of life and contributing to economic development.
1

As of July 2015

2

Generates electricity with higher efficiency by operating at higher steam temperatures (above 593°C) and boiler pressures (250 times or greater atmospheric pressure)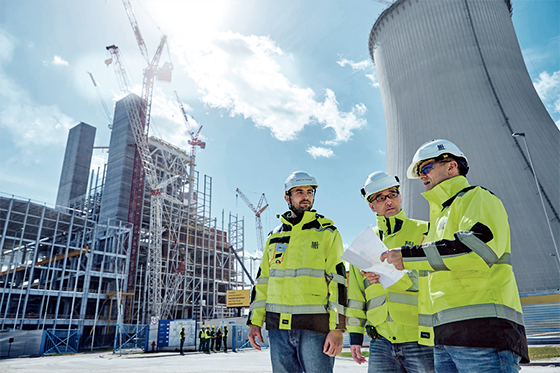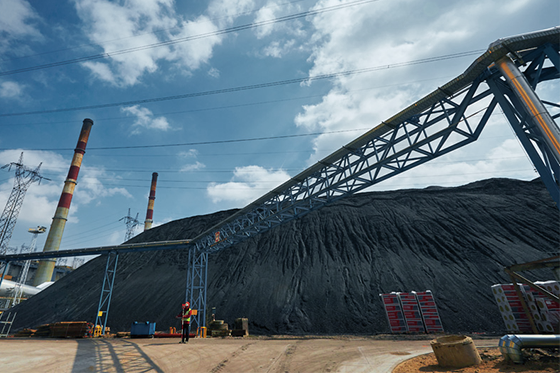 Coal yard where coal is stored as fuel for the plant. Installation of a transport system between the yard and the boiler is part of this EPC project.
Existing MHPS-supplied FGD system equipment. The dependable performance of this system was highly valued, contributing to the awarding of the power plant project to MHPS.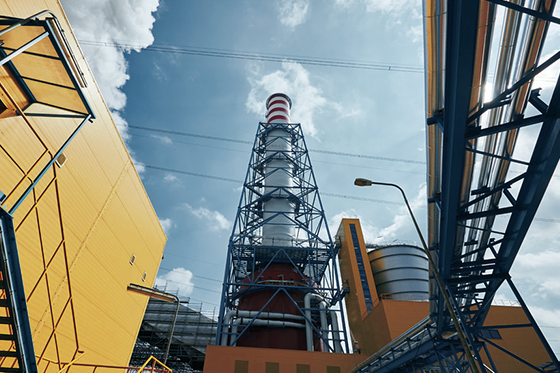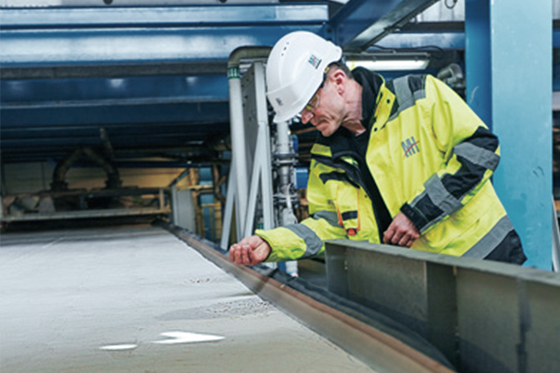 View inside of FGD system equipment. Removing acid rain-causing sulfide from exhaust gases converts it to clean vapor for safe release into the atmosphere.
The tower boiler can efficiently burn locally produced, low-quality coal. Only two companies in the world can manufacture this type of boiler.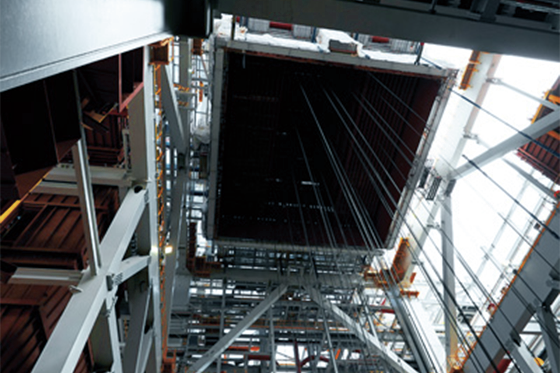 EPC makes stable energy supplies and environmental solutions possible.
With the continued growth of developing countries, the global demand for efficient, environment-conscious energy multiplies. To meet those sustainability demands, coal and natural gas-fired thermal power plants need to implement technology and practices that help generate more effective, reliable power output while addressing issues like CO2 emissions that can impact the environment.
Those challenges were the catalyst in the formation of MHPS, which merged the thermal power generation systems businesses of Mitsubishi Heavy Industries, Ltd. and Hitachi, Ltd., in February 2014.
As an EPC enterprise, MHPS combines the strengths of the two companies' world-class technologies, equipment and highly experienced management and staff toward providing power generation facilities to countries in need of contemporary power supply infrastructures. MHI's vast experience in Asia and Central and South America and Hitachi's long term, expanding business in Europe, Africa and North America, plus their portfolios of high-performance gas/steam turbines, boilers and environmental systems, make MHPS a dynamic source for large-scale thermal power generation solutions.
MHPS will continue to apply its extensive capabilities to help deliver stable energy supplies and solutions to environmental challenges, accommodating the ever-changing needs for power generation and the sustainable development of societies around the globe.